25 Apr

Web Design on A Budget: 7 Tips from Covid Pandemic Time

If the Covid-19 pandemic has taught us anything it is that a public health tragedy could have become a global catastrophe had the world not actively been going digital. Where there are setbacks, there are also opportunities. When millions lost their jobs, millions started their own businesses. In a world where proximity is no longer a viable option, the most logical course of action is to launch your own web-based business. However, websites are supposed to be expensive complicated things, or so you've heard. Here are 7 tips for you to design a website on a budget.
1. Plan your website
Before any web development is started, you need to have a good understanding of how your website should look and work. WordPress, Wix and SquareSpace have created platforms that simplify this process significantly. You can also use Whimsical or Figma to create wireframes before the design process starts. 
2. Get a Domain
You can pick a choice of your domain name from a trusted domain registrar (godaddy.com, name.com, etc.). These will be your [site name].com, [site name].net, [site name].com, [site name].org, amongst hundreds of domain suffixes. Get a domain with the best deal. If you want to check what's available, try namecheckr.com to see if your selected domain is available and if you can create a uniform brand out of it on social media.
3. Build your Website
The single best place that we can recommend for you to get started with a budget website is WordPress. That does not mean other platforms like Wix, or SquareSpace aren't viable options either, but most of their premium features are tucked away behind payments, and you will never get the most out of your Search Engine Optimisation (more on that in a bit). If you are planning an e-commerce business, then consider Shopify. However, the aim is to get started, and eventually upgrade. So, whichever platform you prefer is fine. We recommend WordPress.
WordPress is powering 40% of the market right now. This is approximately 455+ Million websites. That many users can't be wrong.
The biggest advantage of WordPress is the short learning curve and great customisation options.
Most of the items that add desired functionality (plugins) are available for free or a small annual subscription, so that makes things easier. WordPress comes with tons of pre-built themes, some of them are completely free to use, but we recommend getting a professional advice on the choice of the theme, as this is crucial for the future of your website. 

4. Create your Content
While we're on the subject of a website, there's not much a site can do unless you put some content on there.If you fancy yourself capable enough to write a good catchy content, then it is better to create all content first-hand.Alternatively, you could look for freelancers to do the writing for you. 
Also, you will need images to populate the site. If you are going to sell items, then you need to share images of those items. If you are reselling, or drop shipping, then images won't be a problem. However, if you are selling something that you've created yourself, then you need to share images. If the items are small, then we advise looking at this YouTube tutorial on how to do product photography using your phone at home. If you are selling relatively large items, like tables, beds, cars, etc. then try to get a nice tidy picture and use that. If you need generic stock photos, we can recommend Unsplash.com. Just make sure to sort out the attributes when uploading any such image.
5. Do Your SEO
Search Engine Optimisation, when simplified, is the act of endearing a search engine to your site. You have to take a handful of actions on your site that tell Google and other search engines that you have information on a bunch of sites. The search engine will process that information and assign you a site ranking. However, if that ranking isn't in the top 3 entries, it is likely not going to be read.
To get SEO done right, make sure to use keywords properly, make sure whatever you're saying is verifiable, and soon enough you will become the go-to authority in that area.
"Authority" here is an important factor. If you write something that lots of other websites end up referencing to, like a fresh idea that's been thoroughly discussed at length, or something that is a result of first-hand research, etc.
Secondly, make sure your content is relevant to what you're creating. You wouldn't want a site like "AwesomeHoneyStore.com" (long since dead) that only features reviews of PlayStation games, then that site's content is irrelevant.
If your content is relevant and has authority, your site will automatically climb the ranks and you stand a good chance of ending up on the front page. The sooner you appear on Google, the most likely your customers are to find you.
6. Get a Reliable Hosting and a Proper Maintenance Plan
If you have not opted for a paid monthly service like WordPress.com, you will need to get yourself a hosting account. Here, your choices are going to be quite varied. While big names like HostGator, and Bluehost are tempting options, it is always advisable that you understand hosting services and what you get out of them first.  Regular maintenance of your website is also extremely important. WordPress is an open source product and unfortunately can be hacked very easily if its core or plugins are not up to date. You will also need to arrange proper backup system so that your website can be quickly restored if it goes down for some reason. We recommend using professional maintenance services to avoid these problems.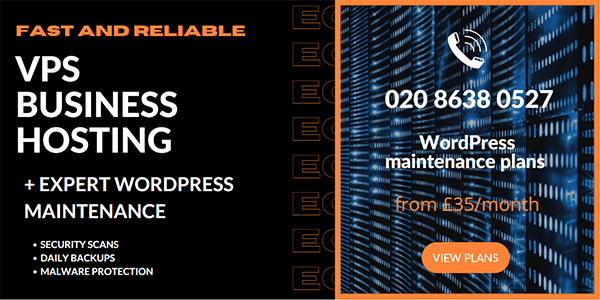 7. E-Commerce
If you want to sell something, then you have to set up an e-commerce store. You can use WooCommerce (powered by WordPress), or Shopify, or any other (some googling will give you better results) that seems easy to you. You will need to set up a payment gateway to process payments. These payment gateways require that you connect with a bank to process your payments, manage your records, etc. If this sounds complicated to you, stick to PayPal, or Payoneer (depending on your region) and then hire an expert when you've made enough money to afford one.